While most students in Wharton's EMBA program have been out of school for almost a decade, Todd Wilson, WG'17, graduated from college in 2012. However, he's not your typical college graduate. After working 12 years on Wall Street, the father of three founded (and sold) a successful software company before going to college. He is now the vice president of information technology at Clif Bar and Co. in the Bay Area and a first-year EMBA student at Wharton San Francisco. We talked to Todd about what brought him to Wharton and his experiences in the program so far. Here is what he said:
On an "Unorthodox" Background
After high school I wasn't sure what to focus on so I took a one-year internship at a Wall Street brokerage firm. That went so well that it turned into a career. My work in finance and IP led me into software development. I spent 12 years on Wall Street before I started my own software company. When the startup was sold, I stayed with the purchasing company until it sold the business to Microsoft in 2008. With the option of taking some time off, I decided to go back to school and earn my undergraduate degree. I chose to major in history because that was a lifelong passion. When I graduated in 2012, my kids were off to college so it was time for me to go back to work. I took the position at Clif Bar, which was in the midst of phenomenal growth. Since joining the company, we've almost tripled in size and are implementing state-of-the-art technology in our operations. I still have responsibilities for things you'd expect of a VP of IT, but I'm also focusing on operations-driven technology that has brought us into the digital age.
On Going Back to School (Again)
I had always been interested in getting an MBA and Clif Bar offers some tuition assistance. I looked at a few options, but quickly realized that what I really wanted was to go to Wharton. When I worked on Wall Street, I knew several Wharton alumni who I respected very much. I wanted to someday be in their shoes. When I learned that Wharton has a San Francisco campus, there was no question where I wanted to attend.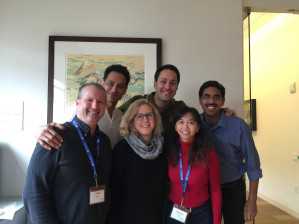 On the GMAT
I used basic math in my career, but the only deep quantitative math I had done was when I helped my kids with their high school math homework. That is not the same thing as doing the math required for the GMAT. Unfortunately, I was applying pretty late in the admissions cycle and there wasn't much time to prepare for the GMAT and my score was good but not great. However, I was able to talk to an admissions committee member during my interview about my GMAT score and get some feedback. We discussed my strengths and weaknesses and what I needed to do to be successful in the program. Ultimately, I was accepted on the condition that I take (and pass with a high enough grade) a business math course prior to the start of the program. I'm really grateful they did that because learning the math has been critical. There is no way I could have done all the math required in Microeconomics without having taken that preparatory math class. The admissions counselor was right on with her feedback.
On Visiting Campus
Coming to campus to sit in on classes and meet students is very valuable. When you come, try to talk to as many people as you can to get different perspectives. If I had stopped at the first guy I met that day, I wouldn't have gotten the full picture. Talking to several people gave me a better feel for what it would really be like.
On the Curriculum
I knew the program would be intense. That isn't something that anyone tries to hide. From the very first welcome event, it is clear that this will be a lot of work. But what did catch me by surprise was how it is exceeding my expectations in terms of applicability. It's not just an in-depth look at typical things like finance and management. There is a big focus on other areas like operations that is directly applicable to what we're doing at Clif Bar. Class by class, I can put things into practice like the optimization of operations between bakeries, valuation of our employee stock ownership plan, or properly creating capital project analyses. I'm not even done with the first year and I've already applied so much learning. The caliber of the professors and my classmates has also surpassed by expectations. In terms of the quality of the people I am learning with and from, they are the best of the best.
On Setting Expectations
Clear and frequent communication is critical whether it's with your family or at work. I've been married for 25 years and my wife was my primary consideration in the decision to go back to school. It turned out to be good timing because we are becoming empty nesters and my wife decided to take on a full-time teaching position and was going to be busy with her new job. We talked about the demands of Wharton and what it would mean for me to be away every other Friday – although she can come to campus to be with me. Now that I'm in the program, I try to involve her at school. She's gotten to know my learning team and their spouses. I also tell her as much as I can about my experience in class and how exciting it is to apply my learnings at work so she feels a connection to the program. I wouldn't be able to do this program without her support.
At work, everyone has been incredibly supportive. It can be difficult to be away on Fridays and essentially unavailable, but everyone respects that this is important. When I anticipate it will be a particularly challenging time at work, I try find coverage for when I'm at Wharton.
On Extracurricular Activities
There isn't a lot of extra time for extracurricular activities in the Executive MBA schedule, however Wharton San Francisco has several clubs and activities for students. I'm involved in the Social Impact Club, where Clif Bar is a sponsor, the Toast Masters' Club and Entrepreneurship Club. Since I founded a company, I've been able to share my entrepreneurial experiences. We also have a lunchtime program called Industry Bites where students share experiences from their industries. I try to sit in as often as possible to learn about other industries, and have been asked to present as part of a manufacturing Industry Bite to talk about the Clif Bar story.
On the Experience
This program is exhausting, but it's also exhilarating. I can't wait to get to class on Fridays. If I had to do it over again, I absolutely would because it has been so rewarding.
Posted: May 10, 2016